Partner Organizations
Food Rescue and Feeding Organizations
This is a coalition of over 85 members—corporations, non-profits, faith-based organizations, universities, foundations, international organizations, and individuals. While driving factors may vary among membership, there is a shared conviction that addressing hunger is essential.
F.A.R.M.S. has partnered with The Society of St. Andrew since 2016. Through its F.A.R.M.S. to Food Bank program, fresh produce is purchased from farm clients across the country and then donated to food banks, pantries, and centers caring for children, elderly, and people struggling with homelessness. Since 2014, F.A.R.M.S. has purchased close to one million pounds of fresh produce from across the country.
The Society of St. Andrew (SoSA) and Seed Programs International (SPI) partnered together through SoSA's Seed Project in 2019. The goal was and is to provide good quality seed, expertise, and training materials to communities and organizations to help reduce hunger; improve nutrition by having people grow vegetables rich in nutrients that are otherwise missing from their diets; and help people help themselves.
---
Church Organizations
Bread for the World (
Bread) is a Christian advocacy organization urging U.S. decision-makers to do all they can to pursue a world without hunger. Their mission is to educate, support, and equip people to advocate for policies and programs to help end hunger in the U.S. and worldwide.

This is an official program of The United Methodist Church for voluntary, designated, second-mile giving. Through The Advance, United Methodist annual conferences, districts, local churches, and organizations, as well as individuals and families, may choose to support mission programs or mission personnel with their financial gifts. Each Advance project has been vetted and approved by Global Ministries and Advance staff. SoSA is Advance # 801600.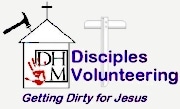 By focusing its ministry on supporting local mission interests, developing servant leaders, and sending teams in mission, Disciples Volunteering promotes a fundamental shift toward service and missions that are more sustainable, flexible, effective, and, ultimately, a better witness to our faith in action. Disciples serving community move from volunteer to servant to neighbor to friend as we Get Dirty for Jesus.
In 1998, the Society of St. Andrew joined with the General Commission on United Methodist Men to establish the Hunger Relief Advocate Initiative, supported by the UMM Meals for Millions program. This joint effort is designed to help the United Methodist Church engage in ministry to and with the poor and hungry under leadership of United Methodist Men.

This is the relief, refugee, and development mission fund of the Christian Church (Disciples of Christ.) It seeks to equip and empower Disciples to alleviate the suffering of others through disaster response, humanitarian aid, sustainable development, and the promotion of mission opportunities.

Hunger and Poverty are areas of focus for Global Ministries. Lack of access to healthy and nutritious food is a major factor in starvation and malnutrition around the world. Global Ministries seeks partners to improve farming and agricultural methods using eco-friendly practices, increase crop diversity and yields, expand market access, improve food-storage facilities, and boost nutrition in vulnerable households and communities.